Willkommen
Wir sind ein Spielwarengroßhandel und beliefern ausschließlich den Fachhandel und Kindergarten-/ Schulausstatter im Bereich Spiel, Sport, Therapie, Outdoor und Freizeit.
Wir arbeiten leider nicht direkt mit Kindergärten, Kindertagestätten, Schulen, Therapieeinrichtungen, Praxen, Vereinen zusammen und verkaufen leider auch nicht direkt an Endkunden.
Nähere Informationen für Händler und Endkunden
hier
.
Welcome
We are an international wholesaler and only works with retailers. So, if you haven't a company who selling toys or sport products you can't order directly from us. If you have such business please click
here
to send your request and your business details.
We don't cooperate directly with kindergarten, baby/children day care institutions, schools, therapy offices, marketing companies, societies or end customer, … If you're a kindergarten, school or end customer click
here
to find where you could buy our products.
---
Unsere aktuellen Newsletter | Our current newsletters








Das ganze Jahr über basteln
Diese Sonderaktion endet zum 4. November 2022
---
Crafting all year round
This sale ends on 4th November 2022

Herbstzeit ist Bastelzeit


Diese Sonderaktion endet zum 28. Oktober 2022
---


Autumn is Craft Time


This sale ends on 28th October 2022
Basteln mit Moosgummi
Diese Sonderaktion endet zum 21. Oktober 2022
---
Handicrafts with foam rubber
This sale ends on 21st October 2022
Schaurig schöne Bastelideen für Halloween
Diese Sonderaktion endet zum 21. Oktober 2022
---
Spooky craft ideas for Halloween
This sale ends on 21st October 2022
Keinen Newsletter erhalten? Gleich anmelden!
Don't received our newsletter? Subscribe now!
---
Internationale Spielwarenmesse in Nürnberg

1. Februar - 5. Februar 2023

1st February - 5th February 2023

Mittwoch bis

Sonntag

Wednesday to

Sunday

EDUPLAY:
Halle 8, Stand ____
Wie in jedem Jahr sind wir auch diesmal wieder auf der internationalen Spielwarenmesse in Nürnberg vertreten.
Gehen Sie gemeinsam mit uns auf die EDUPLAY-Erlebnistour mit einer fachkundigen Produktberatung bis hin zur umfassenden Unternehmenspräsentation.
Es warten wieder viele neue spannende Produkte zusammengefasst in unserem neuen und druckfrischen Katalog auf Sie!

Bitte vereinbaren Sie einen Wunschtermin!
Wir freuen uns auf Ihren Besuch!
---
Like every year you'll find us at the international toy fair in Nuremberg, Germany.
We invite you to go on EDUPLAY-adventure-tour with a professional product consultation and a comprehensive presentation of our company.
Explore a lot of fascinating new products collected in our new catalogue... hot off the press!

Please contact us to arrange an appointment!
We look forward to your visit!

---
---
Werfen Sie jetzt einen Blick in unsere aktuellen Kataloge!
Insgesamt über 200 Neuheiten.

Hier auf den Blätterkatalog klicken oder unter Downloads als PDF downloaden.
---
Take a look in our new catalogues now!
Overall more than 200 new products.

Click here to open the online catalogue or download it as a PDF under Downloads.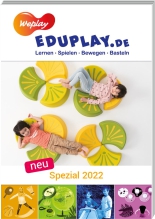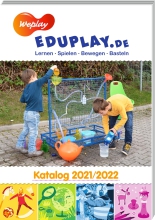 ---
Wichtige informationen in der Corona-Krise - Important information in the corona crisis

Hier klicken | click here